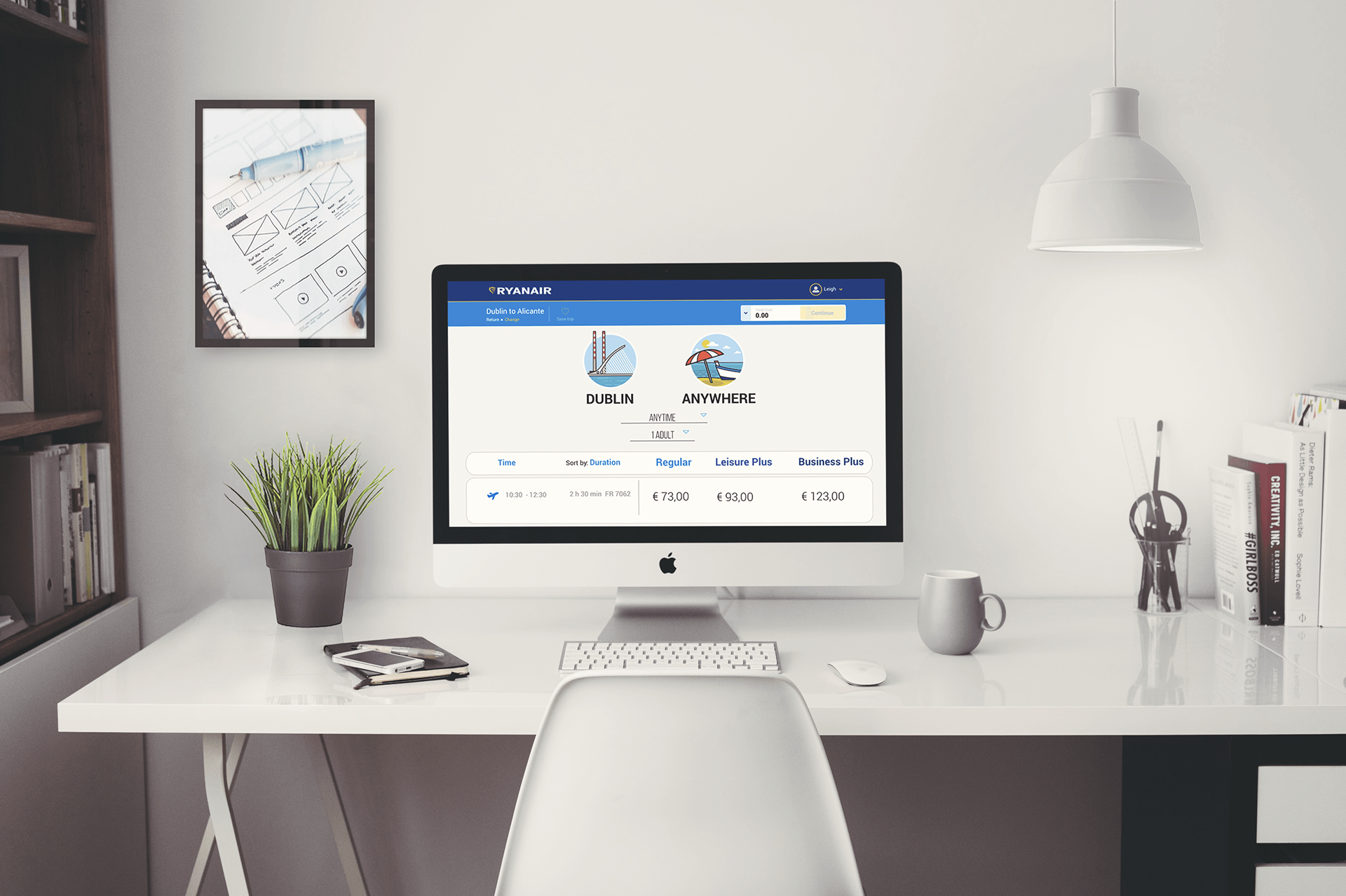 Overview
I am a frequent user of the Ryanair website. I find it easier to book flights through my desktop because I can research other OTA's ( Online Travel Agencies). I use the mobile version after the purchase phase to keep track of online check-ins and last minute changes like changing a flight date. I do value having light information at my fingertips and according to a Travelport research travelers highly value convenience and ease of use.
I often purchase the business plus because my partner needs extra leg room and comfort is something that we take as a priority when going on holidays. We all know that people have different needs and for the design challenge I was asked to design a feature that gives the user some more flexibility – with the ability to upgrade to leisure or business for either one leg of the trip or both.
At the pre-process phase of my UX strategy, I performed a guerilla remote usability testing with 3 participants. The task assessed a specific user scenario where the user tried to book a different class fare for only one leg of the trip.
I also researched the competition booking procedures and how they upsell the different classes and I used the User Zoom Customer Case study as a reference for Ryanair.
Objectives
Discover / Design a way to upsell the leisure and business plus (pain point)
Create solutions to solve the pain point
Methodology / Process
To identify and solve the UX problem, I followed this design process:
Research>Usability Testing>Synthesis>Persona>UI Sketches>Task Flow>Prototype>Validation
Usability Testing
I interviewed 3 people that had previously used Ryanair. I asked them to go through the following scenario:
Task 1: Access the website https://www.ryanair.com/ie/en/ via desktop.
What's your first impression of the website? (Think out loud)
Task 2: Imagine you want to book a round trip from Dublin to Alicante. You are planning to stay for 15 days
Please go to https://www.ryanair.com/ie/en/ and explore the type of fares on the website (please think out loud). You've explored the site for a few minutes, now please try to pick a leisure or business fair for only one leg of the trip and express your thoughts while doing so.
(Edited/partial video of the remote usability test)
I also asked participants to fill up a form with information regarding how many hours they spend on the internet (including email), I also asked about their gender, age and if they use any travel app to book flights.
Synthesis
I reviewed the user answers and usability tests videos to identify any pain points that users were running into when booking a leisure or business fare. After writing down the insights from the usability tests, I grouped them based on similarity to determine which issues were the most common: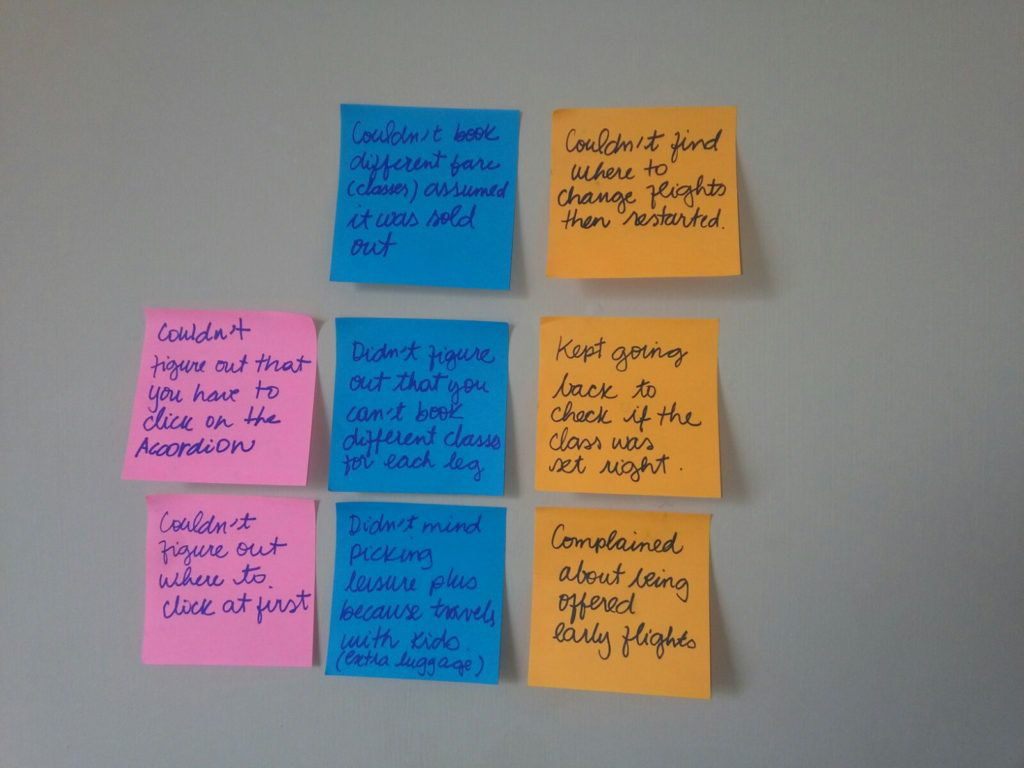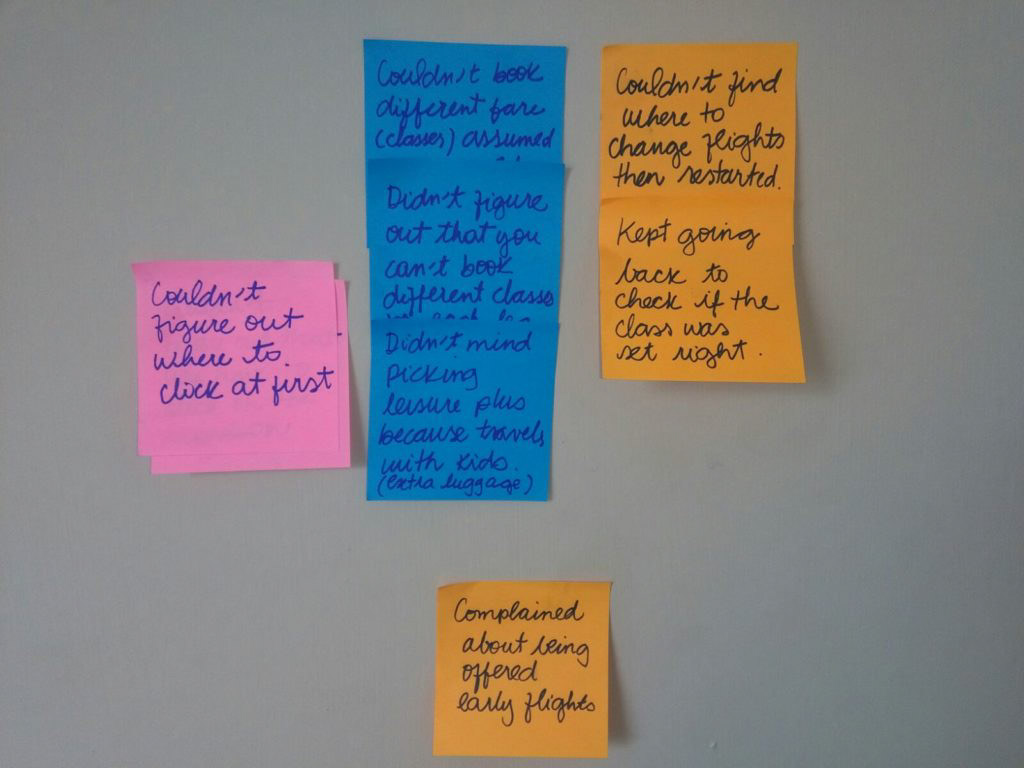 Quotes from users when running the usability test and going through the task scenario of booking different fares for the round trip.
I think the other fares are sold out, I can only book one type of fare for the round trip
I go for Leisure plus because I take extra baggage
It would be nice if you could see everything ( all the types of fares) when you get to this page
To make design decisions, I placed each theme on a 2x2 matrix to determine what's most important to both Ryanair and its users.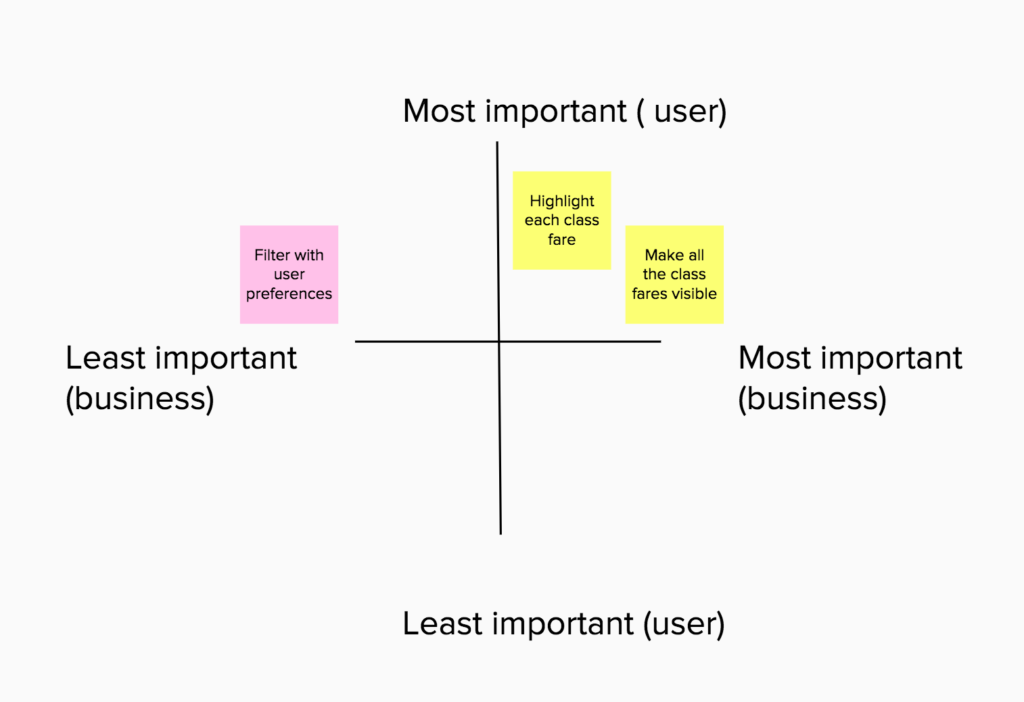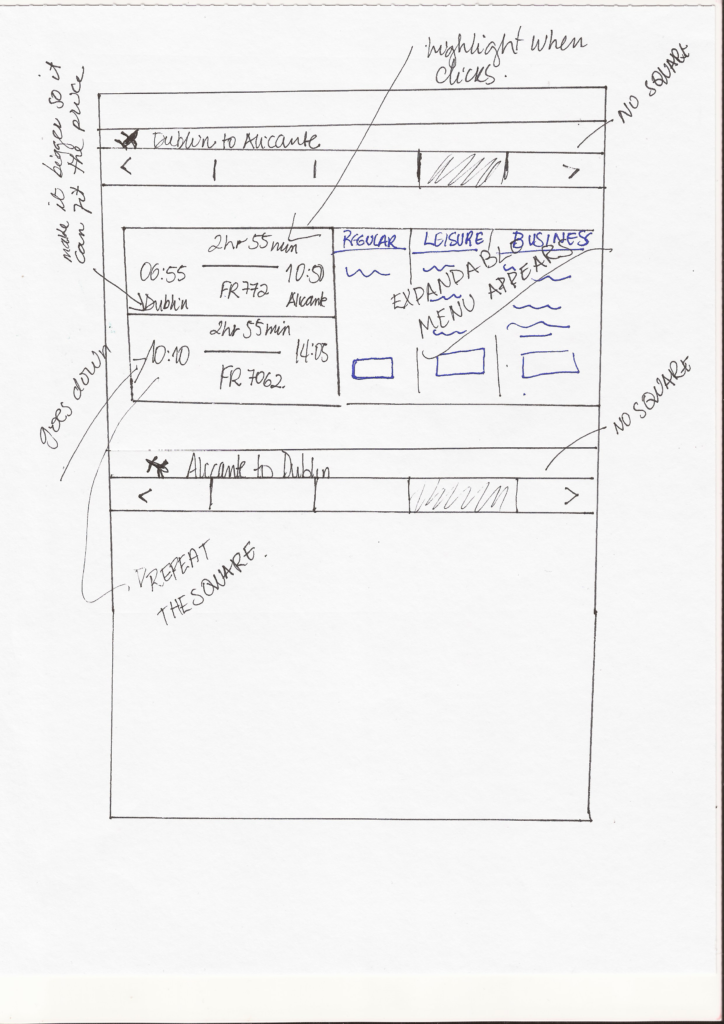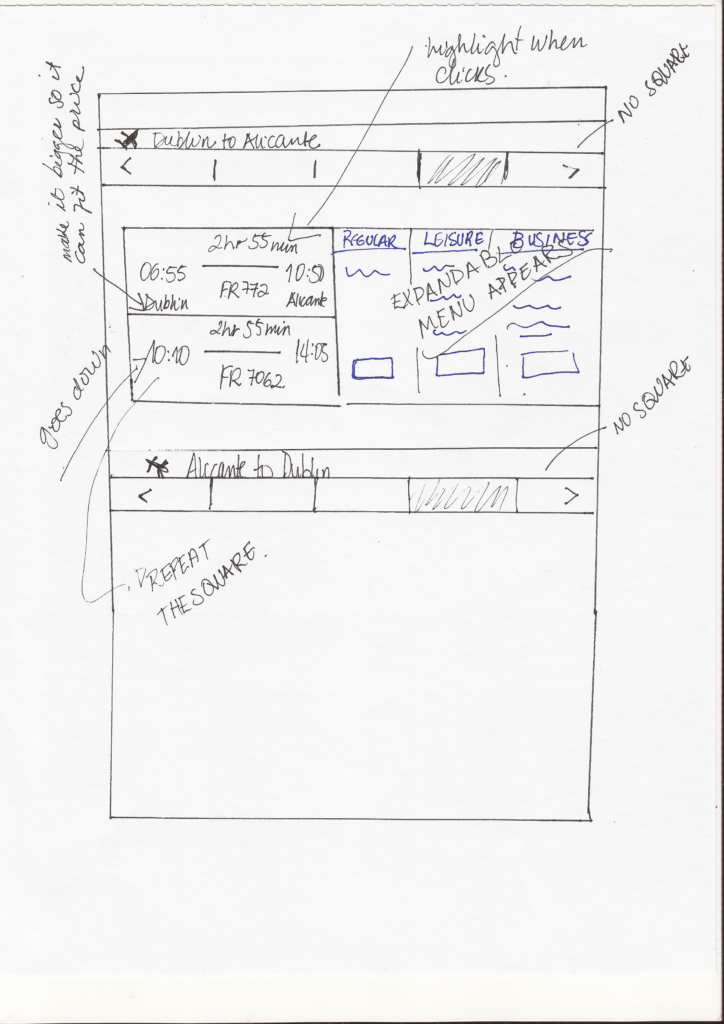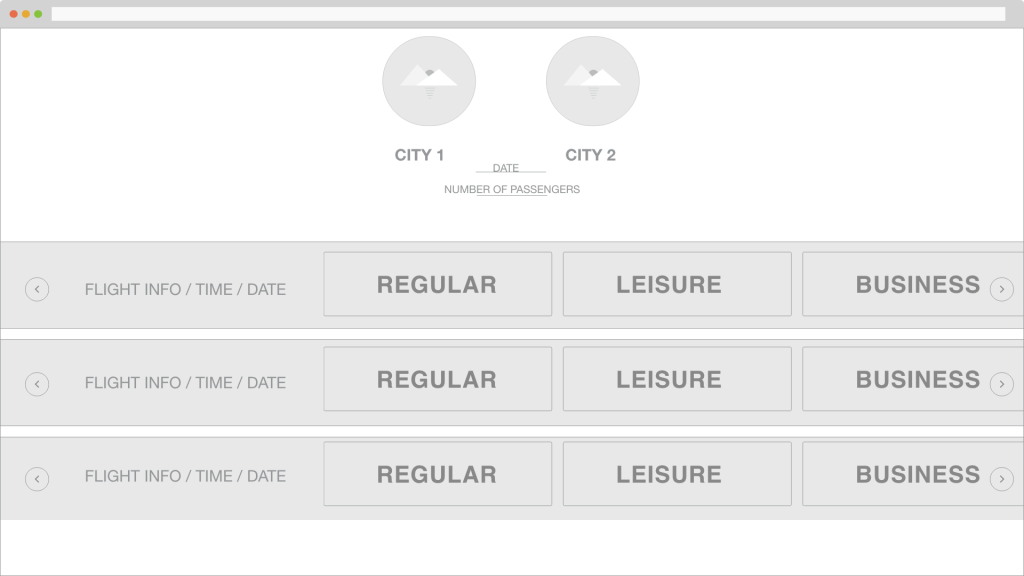 During the wireframe phase I ended up excluding the top menu with the days and flight and as you can see in the wireframe I kept only the options to insert the date and number of passengers. In order to show the different type of fares I enlisted as a price list with a different type of fares, each flight displays the different type of fares: regular, leisure and business.
Prototyping
When prototyping I kept the visual and functional consistency having in mind the Ryanair Principles.
I also created a mood board that I used as inspiration
I also created a mood board that I used as inspiration.
I used Adobe XD to create the two key screens.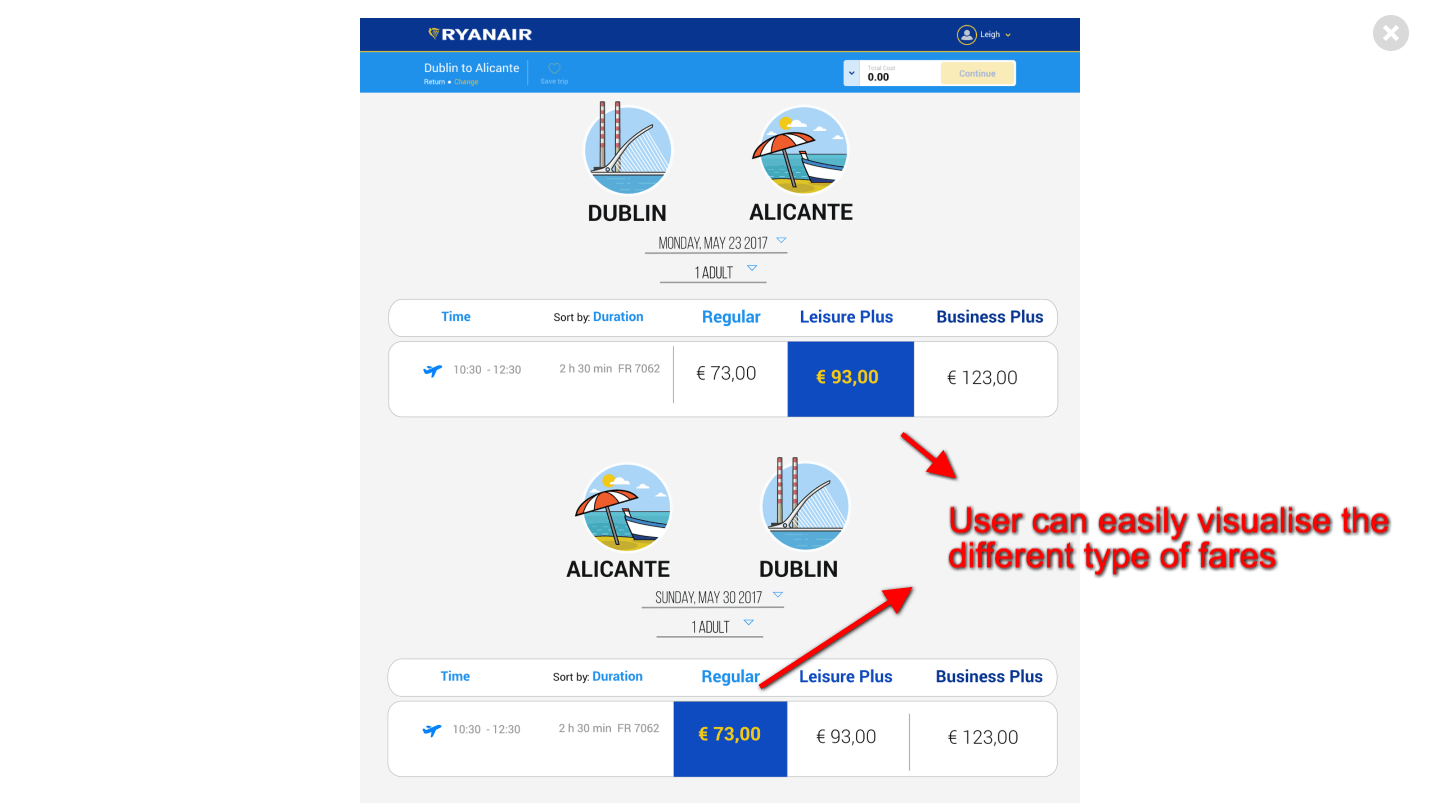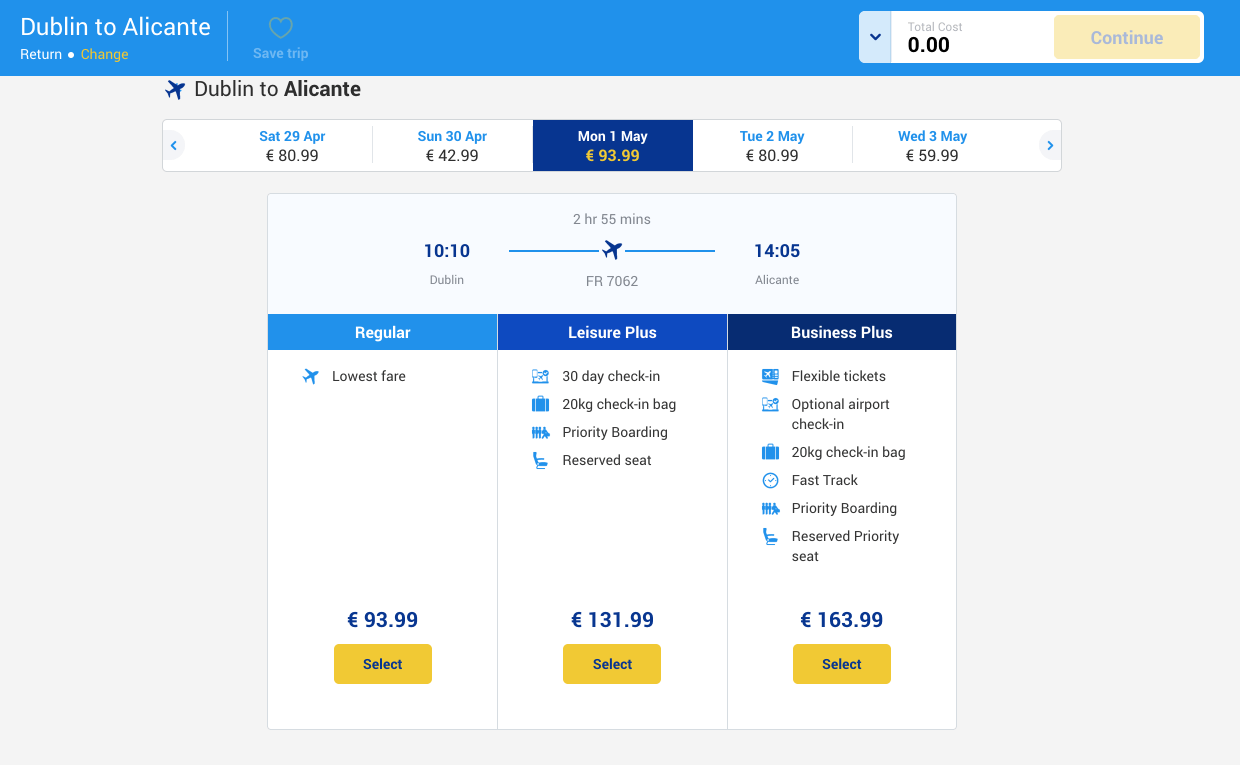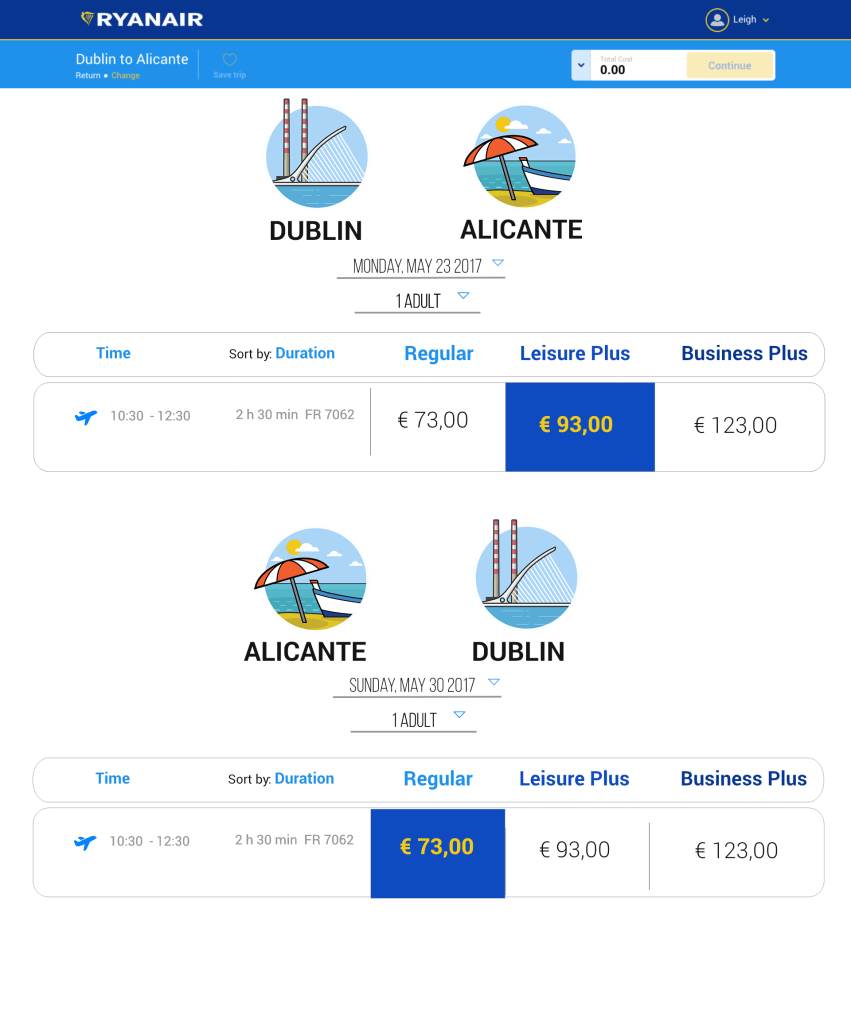 Validating
I tested the before and after with a usability testing participant:
 1 user succeeded in finding different type of fares.
 1 user was able to select the different type of fares.
Conclusion
This design challenge was an opportunity for me to explore ways of improving a flight booking feature and improve my design skills by creating a solution from beginning to end.
Implementing the above design could particularly improve the user experience for frequent and new travelers, making the different type of fares visible without the need of clicking on the expandable area, decreasing the number of clicks and time spent during the booking stage.
Thanks!